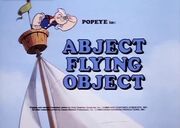 "
Abject Flying Object
" is an episode from
The All-New Popeye Hour
's "
The Adventures of Popeye
" in association with
King Features Syndicate
. It was originally released January 7, 1980 . The producer was Alex Lovy and the associate producer was Dough Patterson. It was directed by Ray Patterson, Carl Urbano, Oscar Dufau and George Gordon. The story editor was Larz Bourne and the recording director was Alex Lovy.
Plot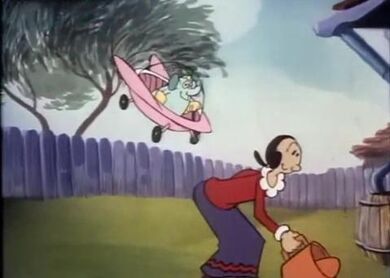 Olive
is frightened by a UFO as she is watering her flowers.
Popeye
proves it is safe by making friends with the spaceman. As they make the space traveler feel welcome in Olive's home,
Bluto
shows up.
Bluto tries to catch the alien so he can get rich showing him to the world on TV. Bluto manages to suck the extraterrestrial into a vacuum cleaner. Before Popeye can eat his spinach to intervene, Bluto sucks up the vegetable too.
This idea actually backfires on Bluto because the alien eats the spinach instead. It turns out the little ET gets super strength from spinach just like Popeye.
Episode details
This segment was from episode 44 in the series, aired in season 3, episode 4 of The All-New Popeye Hour. Below is a list of the other segments for this episode.
External links