Not to be confused with Baby Wants a Battle.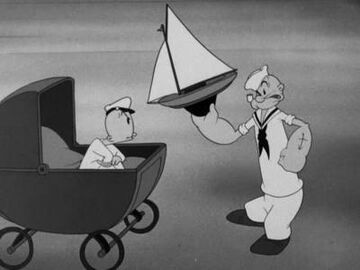 Baby Wants a Bottleship
(1942) is the 108th and final
Popeye
cartoon to be produced by
Fleischer Studios
.
Plot
Popeye makes Swee'Pea a small toy ship from a large piece of wood, but the boy promptly discards it as he takes a look at the Navy battleship Popeye is serving on, the USS Pennsyltucky. When Olive leaves the baby in Popeye's care to go shopping, the sailor soon discovers Swee'Pea has escaped from his stroller and has already climbed to the ship's mast. Popeye breaks Swee'Pea's ensuing fall with a lifeboat, but then the baby slides into a cannon's control board, inadvertently causing Popeye to suffer all sorts of punishments from the cannon and its gears. Next, the baby slips out of a porthole and onto the anchor's chain, leading Popeye to yank the huge anchor up - and on top of himself. More mishaps end with Popeye shot like a shell from a cannon, to be left unconscious after a rough fall. Olive returns at this point, sees that Swee'Pea is gone and boards the Pennsyltucky to find him riding a missile on wheels. She feeds Popeye his spinach and the latter comes to, stopping Swee'Pea's missile from colliding with the explosives room.
Afterwards, Swee'Pea is offered a bigger toy ship by Popeye, then a bigger one, then a bigger one, but keeps rejecting them. The boy is finally allowed to "drive" the USS Pennsyltucky along the street - which is in fact being dragged by the anchor chain by Popeye.
Ad blocker interference detected!
Wikia is a free-to-use site that makes money from advertising. We have a modified experience for viewers using ad blockers

Wikia is not accessible if you've made further modifications. Remove the custom ad blocker rule(s) and the page will load as expected.