Balanced Meals
is a short from
The All-New Popeye Hour
's "Health and Safety Tips" segment for
Hanna-Barbera Productions
in association with
King Features Syndicate
.
Plot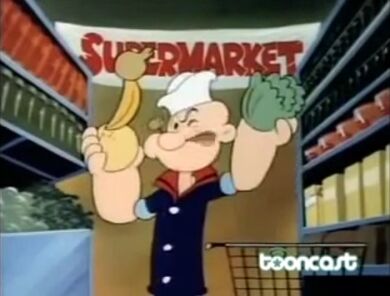 Popeye
talks about how it is important to eat healthy. He explains that everyone should eat meals that contain foods from the major food groups. While at the super market, he provides examples from each group.
From the fruit group he suggests bananas, pears and oranges. From the vegetables group he suggests spinach. Breads and cereals from the grains group. Fish, beef and poultry from the meat group. Milk and cheese from the dairy group.
Episode details
This segment was aired in season 1, episode 4 of The All-New Popeye Hour. Below is a list of the other segments for this episode.
External links
Ad blocker interference detected!
Wikia is a free-to-use site that makes money from advertising. We have a modified experience for viewers using ad blockers

Wikia is not accessible if you've made further modifications. Remove the custom ad blocker rule(s) and the page will load as expected.