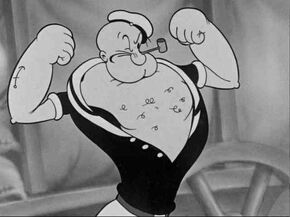 Be Kind to 'Aminals'
is
Popeye
's nineteenth theatrical cartoon, from
Fleischer Studios
, that was released on February 22, 1935.
Plot
While feeding the birds at the park, Popeye and Olive notice Bluto's mistreatment of the horse straining to pull the massive Bluto's Produce cart. He drinks all the water for horses himself, and otherwise violently whips the animal. Popeye puts himself on the way of the whip, climbing on the horse's back, while Olive kisses the animal on the mouth. As Popeye ends up atop the large cart, the banana peels from the fruit he tastes inadvertently cause Olive to start slipping, with Bluto amusing himself by throwing more bananas at her feet. The sailor's attempt to fight the big bully ends with him thrown beside Olive, and he also starts to endlessly slip on the peels. Bluto lashes out on the horse, repeatedly punching it in the face, until Popeye gets his hands on a spinach crate, which allows him to defend the animal and thorougly beat Bluto, with some help from Olive and the horse. Bluto is then forced to pull his own mammoth cart with Olive, Popeye and the horse riding on top, with the latter whipping him as well.
Trivia
This is the only theatrical short where the sailor protagonist is voiced by Floyd Buckley, the radio Popeye, which results in him having a deeper-sounding voice than in other cartoons.
Gallery
External links
Ad blocker interference detected!
Wikia is a free-to-use site that makes money from advertising. We have a modified experience for viewers using ad blockers

Wikia is not accessible if you've made further modifications. Remove the custom ad blocker rule(s) and the page will load as expected.