Bicycle Tip
is a short from
The All-New Popeye Hour
's "Health and Safety Tips" segment for
Hanna-Barbera Productions
in association with
King Features Syndicate
.
Plot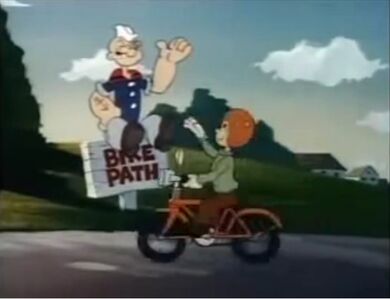 Popeye
talks about many ways to stay safe on a bicycle. He points out important equipment like helmets, reflector, lights and mirrors. He talks about following the rules of the road by obeying traffic signs.
Episode details
This segment was aired in season 1, episode 4 of The All-New Popeye Hour. Below is a list of the other segments for this episode.
External links
Ad blocker interference detected!
Wikia is a free-to-use site that makes money from advertising. We have a modified experience for viewers using ad blockers

Wikia is not accessible if you've made further modifications. Remove the custom ad blocker rule(s) and the page will load as expected.