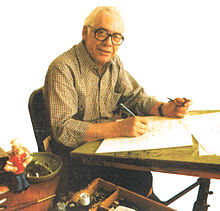 Forrest Cowles "Bud" Sagendorf
(March 22, 1915 – September 22, 1994) was an American cartoonist, best known for his work on
King Features Syndicate
's
Thimble Theatre
comic strip. He was a native of Wenatchee, Washington.
Sagendorf began his career while still a teenager, as the assistant of cartoonist E.C. Segar on his Thimble Theatre and Sappo comic strips. Following Segar's death in 1938, Sagendorf began illustrating marketing materials for King Features, eventually moving on to illustrate many of the Popeye comic books starting in 1948. In 1958, Sagendorf was hired to take over writing and art for the Thimble Theatre comic strip, a role he held until 1986. Wanting to spend more time with his family, Sagendorf reduced his output to Sunday strips while Bobby London continued with the Popeye dailies.
Sagendorf wrote and drew the Popeye Sunday strips until his death in 1994 in Greater Sun Center, Florida. King Features continues to run reprints of Sagendorf's daily strips, while artist Hy Eisman writes and draws new Sunday strips.
In 1979, Sagendorf's book Popeye: The First Fifty Years was published.
Characters created by Sagendorf include: Granny, Dufus, Patcheye, Hardtack, Birdseed, Meldew, Otis O. Otis, Georgie the Giant, the Misermites, Axle and Cam and Sherm.
Gallery
References
External links
Ad blocker interference detected!
Wikia is a free-to-use site that makes money from advertising. We have a modified experience for viewers using ad blockers

Wikia is not accessible if you've made further modifications. Remove the custom ad blocker rule(s) and the page will load as expected.