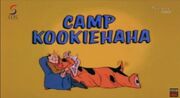 "
Camp Kookiehaha
" is an episode from
The All-New Popeye Hour
's "
Dinky Dog
" segment for
Hanna-Barbera Productions
in association with
King Features Syndicate
. It first aired on October 7, 1978. The producer was Alex Lovy and it was directed by Ray Patterson and Carl Urbano. Monica was voiced by Julie Bennett, Sandy was voiced by Jackie Joseph and Uncle Dudley was voiced by Frank Nelson.
Plot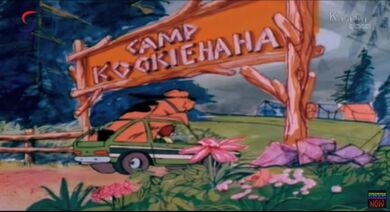 Monica and Sandy find out that Camp Kookiehaha needs a camp counselor for the summer. They decide it would be a great way to get out of the house, and get Dinky out of Uncle Dudley's hair. Sandy thinks they would make good counselor and Dinky would be a good camp mascot.
From the moment they all arrive at camp, Dinky starts to make trouble for the head counselor Miss Giddy. Dinky is very good at ripping holes in her tent for one thing. He also gets her chased by bees and knocks her down.
However, trouble is not the only thing Dinky is good for on this trip. When the girls take the campers out for a hike, they all get lost. Luckily, Dinky follows them and leaves a nice trail for them that leads them back to camp.
Episode details
This segment was from episode 5 in the series, aired in season 1, episode 5 of The All-New Popeye Hour. Below is a list of the other segments for this episode.
External links
Ad blocker interference detected!
Wikia is a free-to-use site that makes money from advertising. We have a modified experience for viewers using ad blockers

Wikia is not accessible if you've made further modifications. Remove the custom ad blocker rule(s) and the page will load as expected.