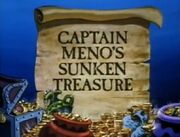 "
Captain Meno's Sunken Treasure
" is an episode from
The All-New Popeye Hour
's "
Popeye's Treasure Hunt
" segment for
Hanna-Barbera Productions
in association with
King Features Syndicate
. It first aired on November 4, 1978 . The producer was Art Scott and it was directed by George Gordon, Carl Urbano and Rudy Zamora.
Popeye
was voiced by
Jack Mercer
,
Olive Oyl
was voiced by
Marilyn Schreffler
and
Bluto
was voiced by
Allan Melvin
.
Plot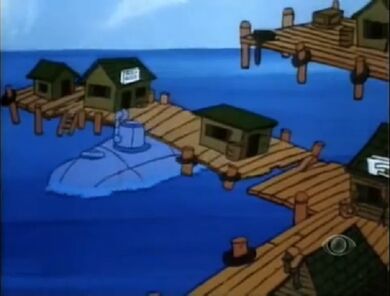 A submarine emerges at the dock of Popeye & Olive Treasure Seekers Ltd., piloted by
Marvin Meno
. He wants to hire Popeye to help him find the treasure of his grandfather
Captain Meno
. Bluto tries to be part of the treasure hunt but Marvin only wants Popeye. Bluto sneaks into the sub after it submerges.
Once the sub is underway, Marvin reveals the first clue, the location to Captain Meno's sunken submarine. Bluto sees the location on the map and changes it when they all leave the room. Bluto sneaks off the sub again and heads out to find the treasure on his own. Popeye notices that the map was tampered with and fixes Bluto's deception.
Bluto arrives at the correct location first and uses an underwater camera to locate the sunken submarine. Marvin's submarine arrives shortly afterwards so Bluto lowers a net to trap it. Bluto then dives down and cuts into their sub to flood it. This gives Bluto the chance to board Captain Meno's submarine first and get the treasure.
Popeye, Olive and Marvin put on diving gear and swim over to Captain Meno's sub after Bluto. Olive and Marvin enter the sub while Popeye stays outside. Bluto traps Marvin and Olive and shoots them out the torpedo tube. Popeye saves them but they are all captured by a giant octopus. Popeye eats his spinach so everyone can escape and brings Captain Meno's sub to the surface. Bluto is captured and the treasure is returned back to Marvin.
Trivia
"Captain Meno" is a clear homage to Jules Verne's literary character Captain Nemo. The design of the sunken submarine is very similar to that of Nemo's in 20,000 Leagues Under the Sea by Verne.
Gallery
Episode details
This segment was from episode 9 in the series, aired in season 1, episode 9 of The All-New Popeye Hour. Below is a list of the other segments for this episode.
External links
Ad blocker interference detected!
Wikia is a free-to-use site that makes money from advertising. We have a modified experience for viewers using ad blockers

Wikia is not accessible if you've made further modifications. Remove the custom ad blocker rule(s) and the page will load as expected.