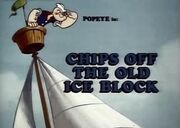 "
Chips Off The Old Ice Block
" is an episode from
The All-New Popeye Hour
's "
The Adventures of Popeye
" segment for
Hanna-Barbera Productions
in association with
King Features Syndicate
. It first aired about 1979. The producer was Alex Lovy and it was directed by Ray Patterson and Carl Urbano. The associate producer was Neil Balnaves and Creative Producer was Iwao Takamoto.
Popeye
was voiced by
Jack Mercer
,
Swee'Pea
was voiced by
Marilyn Schreffler
and
Bluto
was voiced by
Allan Melvin
.
Plot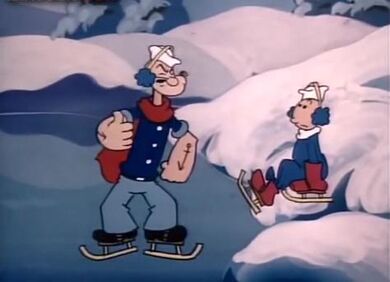 Popeye and Swee'Pea are out to have some wintertime fun.
Popeye takes Swee'Pea on his sled to the frozen lake to teach him how to skate. But when Bluto sees them, he decides to have a little fun of his own.
Bluto naturally believes he is a better skater than Popeye and should be the one to teach Swee'Pea how to skate. Bluto does everything to sabotage Popeye like burying him in snow and tricking him into falling through the ice.
When Bluto's schemes puts Swee'Pea in danger, however, Popeye resorts to his spinach.
Episode details
This segment was aired in season 1, episode 18 of The All-New Popeye Hour. Below is a list of the other segments for this episode.
External links