"You owe me an apology."
—Cole's catchphrase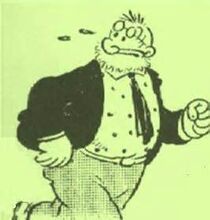 Cole Oyl
is a character created by
E.C. Segar
in his comic
Thimble Theatre
prior to
Popeye
's introduction. Mr. Oyl is
Nana Oyl
's husband and the father of
Olive
and
Castor Oyl
.
Like his relatives, he has a pun for a name: 'Cole Oyl' derives from "coal oil", an old term for kerosene. He has a habit of reading a newspaper.
Mr. Oyl made several appearances in the Popeye the Sailor TV series, where he was voiced by Jack Mercer, and actor MacIntyre Dixon portrays him in the 1980 live-action film.
Gallery
External links
Ad blocker interference detected!
Wikia is a free-to-use site that makes money from advertising. We have a modified experience for viewers using ad blockers

Wikia is not accessible if you've made further modifications. Remove the custom ad blocker rule(s) and the page will load as expected.