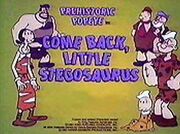 "
Come Back, Little Stegosaurus
" is an episode from
The All-New Popeye Hour
's "
Prehistoric Popeye
" segment for
Hanna-Barbera Productions
in association with
King Features Syndicate
. It first aired on September 26, 1981. The producer was Art Scott and it was directed by George Gordon, Carl Urbano and Rudy Zamora. Caveman
Popeye
was voiced by
Jack Mercer
, Cavewoman
Olive
was voiced by
Marilyn Schreffler
and Caveman
Bluto
was voiced by
Allan Melvin
.
Plot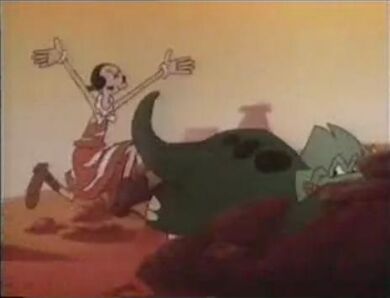 Olive's pet stegosaurus Fluffy has run away and she is unable to catch it. She asks Popeye to help catch it and Bluto 'helps' too. They both compete to see who can catch Fluffy first.
Naturally their rivalry works against them to accomplish their task as it always does. Fluffy leads them on a 'wild stegosaurus' chase. Popeye must rely on his spinach to finally catch Fluffy.
External links