"
Dawned on Me
" is a 2011 song by American alternative rock band
Wilco
, notable for its music video: it is animated to resemble a black-and-white
Fleischer Studios
Popeye
cartoon, and (by arrangement with
King Features Syndicate
) includes the appearance of Popeye and his supporting cast of
J. Wellington Wimpy
,
Olive Oyl
,
Bluto
and
Swee'Pea
.
Plot
As the animated band perform their song beside a
ship
marked "Wilco", Popeye emerges from a rolling
spinach
can and begins to dance
the Hornpipe
. He is soon joined by Wimpy, Olive Oyl, Bluto and even Swee'Pea. After some more dancing, Olive and singer Jeff Tweedy begin to flirt, to the ire of both Popeye and Bluto. When the former tries to intervene, he is sabotaged by the latter, yet still manages to get in a brawl with the singer.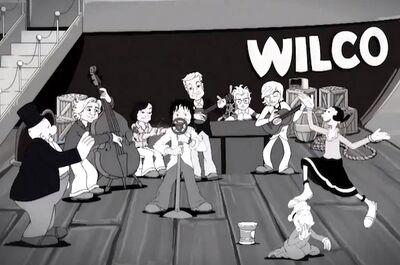 Meanwhile, Bluto carries the horrified Olive away, taking her to another ship. Eating from a Wilco-brand can of spinach allows the
sailor
hero to punch his enemy into the sea and rescue his love, but she still wants to dance to the band's music. Popeye decides to do some more dancing too until the characters (including the wet Bluto) re-enter their spinach can, one by one. Olive is tempted to stay with the singer, however, and Popeye graciously admits defeat before going back into the can.
Music video
External links