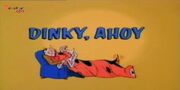 "
Dinky, Ahoy
" is an episode from
The All-New Popeye Hour
's "
Dinky Dog
" segment for
Hanna-Barbera Productions
in association with
King Features Syndicate
. It first aired on September 16, 1978. The producer was Alex Lovy and it was directed by Ray Patterson and Carl Urbano. Monica was voiced by Julie Bennett, Sandy was voiced by Jackie Joseph and Uncle Dudley was voiced by Frank Nelson.
Plot
The girls get a job as hostesses on a cruise
ship
. They manage to sneak Dinky on board without the Captain knowing. The Captain soon discovers him and locks him in the purser's office.
One of the passengers, Professor Cranium, has a very valuable cargo on board too. It is the leg bone of a dinosaur also locked away in the purser's office. When the Professor checks in on his bone, Dinky takes it and hides it.
After Dinky leads every one on a crazy chase, the girls recover the bone. They also discover that the bone is full of priceless jewels. The Captain then realizes that the Professor is Diamond Dan the Smugglin' Man.
The Captain calls Dinky a hero for capturing the smuggler. As a reward, he sets Dinky up in his own private room at the ship.
Episode details
This segment was from episode 2 in the series, aired in season 1, episode 2 of The All-New Popeye Hour. Below is a list of the other segments for this episode.
External links
Ad blocker interference detected!
Wikia is a free-to-use site that makes money from advertising. We have a modified experience for viewers using ad blockers

Wikia is not accessible if you've made further modifications. Remove the custom ad blocker rule(s) and the page will load as expected.