"
Dinky at the Circus
" is an episode from
The All-New Popeye Hour
's "
Dinky Dog
" segment for
Hanna-Barbera Productions
in association with
King Features Syndicate
. It first aired on September 23, 1978. The producer was Alex Lovy and it was directed by Ray Patterson and Carl Urbano. Monica was voiced by Julie Bennett, Sandy was voiced by Jackie Joseph and Uncle Dudley was voiced by Frank Nelson.
Plot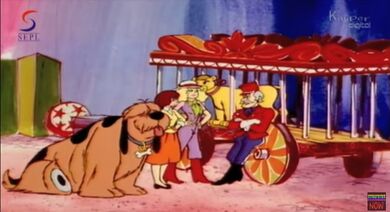 Monica and Sandy got a job at the circus for the next two weeks. They will be running the hospital benefit kissing booth. Uncle Dudley is helping them build their booth. Dinky is along to cause some chaos like destroying the girls' booth.
The circus grounds start to come alive with the activities of elephants, clowns and lions. Dinky notices a very attractive lioness named Lenora. Sandy thinks the lion tamer Wolfgang the Magnificent is attractive also. Monica is not impressed by his arrogance.
The girls leave Dinky and Uncle Dudley behind to repair the booth. They follow Wolfgang back to the big top to watch him rehearse for the opening day show. Dinky follows them so he can see Lenora again. He also disrupts the rehearsals and messes up the act.
Sandy, however, thought it was fantastic and thinks he should join the show. Wolfgang just thinks he is a clumsy mutt. He will not let Dinky make him look like a fool. Dinky is upset and sad that he can not be in the act so Sandy tells he can see the show with her.
At the opening night performance, things go wrong in a different way. Their signature stunt puts them all in danger when the high wire begins to snap. Wolfgang and Lenora have just topped the lion pyramid and can do nothing to save themselves.
Luckily for them, Dinky rushes in to save them all when they fall. Now Wolfgang is indebted to Dinky for saving their lives. He says Dinky can be part of the act any time he wants.
Episode details
This segment was from episode 3 in the series, aired in season 1, episode 3 of The All-New Popeye Hour. Below is a list of the other segments for this episode.
External links
Ad blocker interference detected!
Wikia is a free-to-use site that makes money from advertising. We have a modified experience for viewers using ad blockers

Wikia is not accessible if you've made further modifications. Remove the custom ad blocker rule(s) and the page will load as expected.