Don't Overeat
is a short from
The All-New Popeye Hour
's "Health and Safety Tips" segment for
Hanna-Barbera Productions
in association with
King Features Syndicate
.
Plot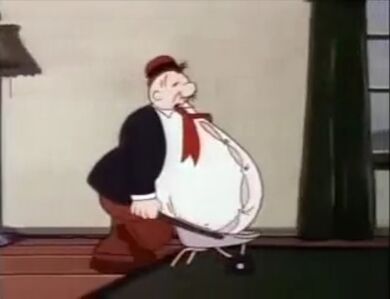 Popeye
talks about the dangers of overeating. So who would be the best person to help with this subject?
Wimpy
, naturally!
Popeye is standing in front of a big table of healthy foods. These are all the right foods, but even too much of a good thing is not good. In comes Wimpy and looks at the great feast set out on the table.
He makes his way over to the table and promptly eats everything. When he is done he leaves. His belly is so big he needs to wheel it out in a wheelbarrow.
Episode details
This segment was aired in season 1, episode 4 of The All-New Popeye Hour. Below is a list of the other segments for this episode.
External links
Ad blocker interference detected!
Wikia is a free-to-use site that makes money from advertising. We have a modified experience for viewers using ad blockers

Wikia is not accessible if you've made further modifications. Remove the custom ad blocker rule(s) and the page will load as expected.