"
Easel Does It
" is an episode from
The All-New Popeye Hour
's "
Dinky Dog
" segment for
Hanna-Barbera Productions
in association with
King Features Syndicate
. It first aired on December 2, 1978. The producer was Alex Lovy and it was directed by Ray Patterson and Carl Urbano. Monica was voiced by Julie Bennett, Sandy was voiced by Jackie Joseph and Uncle Dudley was voiced by Frank Nelson.
Plot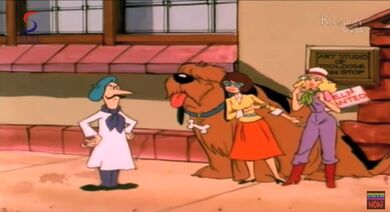 Uncle Dudley is setting up his projector and screen as his nieces make popcorn to see his new home movie. Dinky, causing trouble as usual, destroys the house again before the movie is over. So he girls start driving around town to find a job to pay for the damages.
They see a help wanted sign at the art studio of Tooloose Van Stop. He gives them a job to help him create his latest masterpiece to impress his benefactor, Melvin McBuck. Dinky gets the artist upset right from the start. Dinky smashes his clay statue as the girls help him create it, and also splatters paint on all his murals and paintings. Then Dinky shatters his marble sculpture as the girls are polishing it.
The girls are sure they will lose their job and have to pay for the damages to the studio as well. When Mr. McBuck arrives, he loves all the damaged pieces of art and buys them. Mr. Van Stop is so happy for Dinky's help he decides to carve a statue of him.
Episode details
This segment was from episode 13 in the series, aired in season 1, episode 13 of The All-New Popeye Hour. Below is a list of the other segments for this episode.
External links
Ad blocker interference detected!
Wikia is a free-to-use site that makes money from advertising. We have a modified experience for viewers using ad blockers

Wikia is not accessible if you've made further modifications. Remove the custom ad blocker rule(s) and the page will load as expected.