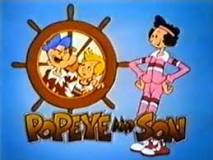 No higher resolution available.
Description
As it is mentioned in wikipedia:  Popeye and his long-time girlfriend Olive Oyl are married and have a son named Popeye Junior. He has inherited Popeye's ability to gain superhuman strentgh from eating spinach; However, Popeye Jr. hates the taste of spinach (preferring hamburgers), much to this father's disappointment. Popeye's rival bluto have a wife of his own and they also have son named Tank. The series suffered all of the same problems from network Standards & Practices broadcast restrictions that hampered the 1970s series, and is generally regarded by Popeye fans as one of the worst of the series, though it does have it fans. 
File history
Click on a date/time to view the file as it appeared at that time.
Ad blocker interference detected!
Wikia is a free-to-use site that makes money from advertising. We have a modified experience for viewers using ad blockers

Wikia is not accessible if you've made further modifications. Remove the custom ad blocker rule(s) and the page will load as expected.