"
Flabby Arms Farm
" is an episode from
The All-New Popeye Hour
's "
Dinky Dog
" segment for
Hanna-Barbera Productions
in association with
King Features Syndicate
. It first aired on November 18, 1978. The producer was Alex Lovy and it was directed by Ray Patterson and Carl Urbano. Monica was voiced by Julie Bennett, Sandy was voiced by Jackie Joseph and Uncle Dudley was voiced by Frank Nelson.
Plot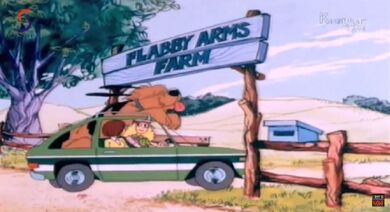 Everyone is at the supermarket so naturally Uncle Dudley starts complaining about how much it costs to feed Dinky. On the drive home, Sandy comes up with a great idea for her and Monica's next new job. She suggests getting a job on a farm so they can earn money and learn how to grow their own food.
The next day they, drive to the new job at Flabby Arms Farm that Sandy arranged over the phone. However, when they get there they find out that it is not a farm but a health spa. Their boss and owner of the spa is Mr. Big Bigger and their job is to be nice to his most important client: Mr. Gilbert Gildedge III. They start by getting all the equipment he requires in the fitness room. Dinky helps them get barbells for him, but he drops them and Mr. Gildedge has to run to keep from getting rolled over by them.
Next, the girls assist him with his jump-rope workout and Dinky helps when Sandy leaves to prepare lunch. All goes well until Dinky sees the food and Mr. Gildedge has to start jumping faster and faster to keep up with Dinky.
After lunch, the girls attend to Mr. Gildedge on the treadmill and Dinky jumps on the other end to speed it up. This makes Mr. Gildedge run faster and faster until he goes flying. Mr. Bigger is sure Dinky's antics drove away his best client for good. Mr. Gildedge later surprises him by saying all the extra exercise has made him lose weight and he signs up for a lifetime membership.
Episode details
This segment was from episode 11 in the series, aired in season 1, episode 11 of The All-New Popeye Hour. Below is a list of the other segments for this episode.
External links
Ad blocker interference detected!
Wikia is a free-to-use site that makes money from advertising. We have a modified experience for viewers using ad blockers

Wikia is not accessible if you've made further modifications. Remove the custom ad blocker rule(s) and the page will load as expected.