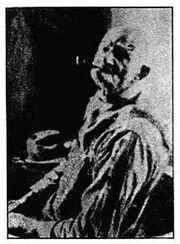 Frank "Rocky" Fiegel
(January 27, 1868 - March 24, 1947) was a real-life person from
E. C. Segar
's home town of
Chester, Illinois
who (like
J. William Schuchert
and
Dora Paskel
) inspired a
Thimble Theatre
character. In this case,
Popeye
.
Frank Fiegel, nicknamed "Rocky", was a well-known Chester individual. Something of a local legend, he supposedly had an inordinate strength and often participated in fights. Like Popeye, he smoked a pipe and was toothless. He is said to have been kind to children as well.
Since 1996, his gravestone bears an engraving of Popeye's face as he first appeared in Thimble Theatre.
External links
Ad blocker interference detected!
Wikia is a free-to-use site that makes money from advertising. We have a modified experience for viewers using ad blockers

Wikia is not accessible if you've made further modifications. Remove the custom ad blocker rule(s) and the page will load as expected.