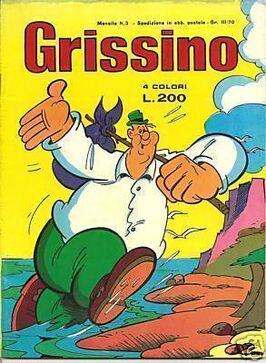 Georgie the Giant
is a character that first appeared in
Popeye
#51.
Popeye
was supposed to save
Spinachovia
from a giant's menace, however, the
sailor
and the giant ended up as friends. Georgie would eventually return to the series, coming to visit Popeye in the latter's own
home town
.
Known as 'Grissino' ('Breadstick'), Georgie became a popular character in Italy, starring in a back-up feature in Popeye comic books produced there. Due to his popularity, he also received his own title.
Ad blocker interference detected!
Wikia is a free-to-use site that makes money from advertising. We have a modified experience for viewers using ad blockers

Wikia is not accessible if you've made further modifications. Remove the custom ad blocker rule(s) and the page will load as expected.