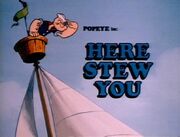 "
Here Stew You
" is an episode from
The All-New Popeye Hour
's "
The Adventures of Popeye
" segment for
Hanna-Barbera Productions
in association with
King Features Syndicate
. It first aired on December 9, 1978. The producer was Art Scott and it was directed by George Gordon, Carl Urbano and Rudy Zamora.
Popeye
was voiced by
Jack Mercer
and
Olive Oyl
was voiced by
Marilyn Schreffler
.
Plot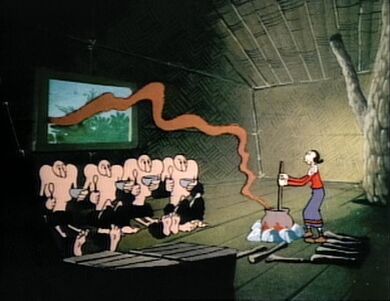 Popeye and Olive are unfortunate enough to find themselves shipwrecked on a deserted island. Popeye paddles a raft to shore loaded with supplies from the
ship
. Olive makes something to eat as Popeye builds a log cabin.
Olive soon learns that they are on Goon Island because the smell of her stew attracts the attention of some hungry Goons. Olive becomes upset when they take their lunch and follows them back to the Goons' treehouse. Once there, they keep her captive so she can make them more stew.
After Popeye finishes the cabin, he realizes that Olive is missing. He can smell Olive's cooking and follows the aroma to the Goons' home. Popeye makes several attempts to rescue Olive but the Goons and their man-eating-plants stop him every time.
Popeye finally eats some spinach so he can tie up the Goons with their own plants. After Olive is safe, she makes some more stew to convince Goons to help row a boat off the island.
Episode details
This segment was from episode 14 in the series, aired in season 1, episode 14 of The All-New Popeye Hour. Below is a list of the other segments for this episode.
External links
Ad blocker interference detected!
Wikia is a free-to-use site that makes money from advertising. We have a modified experience for viewers using ad blockers

Wikia is not accessible if you've made further modifications. Remove the custom ad blocker rule(s) and the page will load as expected.