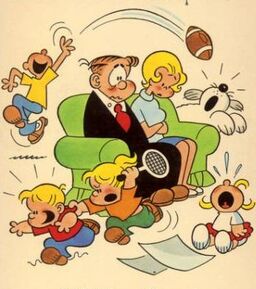 Hi and Lois are the title characters from an American comic strip created in 1954 by cartoonists Mort Walker and Dik Browne. The strip revolves around the daily suburban life of Hi and Lois Flagston and their four children. The comic is in fact a spin-off from Walker's Beetle Bailey, Lois being the sister of its star, Private Beetle Bailey.
In 1971, the Hi and Lois comic was added as a back-up feature to the Popeye comic book. Also, in 1972, the Flagstons were among the various King Features characters to appear along with Popeye in Popeye Meets the Man Who Hated Laughter.
External links
Ad blocker interference detected!
Wikia is a free-to-use site that makes money from advertising. We have a modified experience for viewers using ad blockers

Wikia is not accessible if you've made further modifications. Remove the custom ad blocker rule(s) and the page will load as expected.