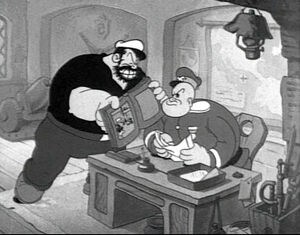 I'm in the Army Now
is the 42nd
Popeye
short, which was released by
Fleischer Studios
in 1936.
Plot
Olive Oyl, Popeye and Bluto come by an U. S. Army recruitment office and Olive mentions that she loves men in uniforms. This prompts both of her suitors to rush in and try to enlist. The recruitment officer says he can only take one of them, so they proceed to show him their picture albums from their previous adventures (Blow Me Down!, Choose Your "Weppins", Shoein' Hosses and King of the Mardi Gras). Seeing Popeye's triumph in the latter, the officer chooses him. Bluto attacks Popeye, who turns the tables upon eating his spinach. Olive then walks off with the uniformed Popeye.
External links
Ad blocker interference detected!
Wikia is a free-to-use site that makes money from advertising. We have a modified experience for viewers using ad blockers

Wikia is not accessible if you've made further modifications. Remove the custom ad blocker rule(s) and the page will load as expected.