"
I Wants Me Mummy
" is an episode from
The All-New Popeye Hour
's "
Popeye's Treasure Hunt
" segment for
Hanna-Barbera Productions
in association with
King Features Syndicate
. It first aired on September 9, 1978 . The producer was Art Scott and it was directed by George Gordon, Carl Urbano and Rudy Zamora.
Popeye
was voiced by
Jack Mercer
,
Olive Oyl
and
the Sea Hag
were voiced by
Marilyn Schreffler
, and
Bluto
was voiced by
Allan Melvin
.
Plot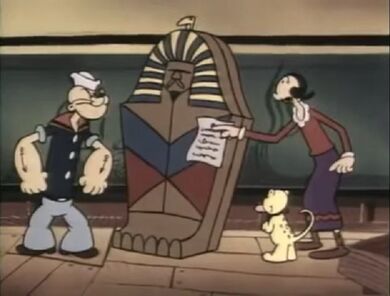 Popeye is delivered an Egyptian sarcophagus to the door of the Popeye & Olive Treasure Seekers Service Ltd. shack. Inside of it is his latest client, wrapped up like a mummy. He wants to hire Popeye to find Cleopatra's treasure. He gives Popeye the first clue: to look in the shadow of the Sphinx. Bluto was hiding in Popeye's aquarium so he saw the clue too.
Popeye and Olive prepare to ship out with their client but Bluto chains their boat to the dock and kidnaps the client. Popeye frees his boat and races after Bluto. The next trick Bluto tries is a smoke screen. Popeye avoids the smoke by rigging his sail to fly over Bluto's boat. Bluto shoots a swordfish like an arrow to shoot him down. In all this confusion, the client rows over to Popeye's boat.
Unknown to everyone, the Sea Hag is watching all of this through her crystal ball. She wants the treasure for herself so she causes a storm to stop Popeye. This allows Bluto to arrive at the Sphinx first and get the next clue. The Sphinx' shadow leads him to a buried figurine that points the way to the treasure. Bluto turns it in the opposite direction to keep Popeye from the correct path.
Popeye eats his spinach to control the storm and sail onto the Sphinx. When they finally arrive they see the clue and Eugene the Jeep knows it was moved. He reveals Bluto's footprints going in the right direction.
Next, the Sea Hag moves onto part two of her plan and disguises herself as an Egyptian queen to trick Bluto. Popeye finds her crystal ball and can see her deception. Popeye exposes her little trick when he takes her crystal ball and goes to confront her. Eugene then has a magic battle with her and reveals the hidden treasure in the process.
Gallery
Episode details
This segment was from episode 1 in the series, aired in season 1, episode 1 of The All-New Popeye Hour. Below is a list of the other segments for this episode.
External links
Ad blocker interference detected!
Wikia is a free-to-use site that makes money from advertising. We have a modified experience for viewers using ad blockers

Wikia is not accessible if you've made further modifications. Remove the custom ad blocker rule(s) and the page will load as expected.