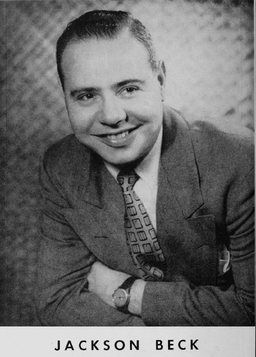 Jackson Beck
(July 23, 1912—July 28, 2004) was an American actor best known as the announcer on radio's
The Adventures of Superman
and the voice of
Bluto
in the
Famous
era of
Popeye
theatrical shorts.
In addition to a lengthy career in radio and film as a narrator and actor, Beck was a prolific voice artist in animation, becoming a regular at Famous Studios in the mid-1940s. He voiced Bluto in the Popeye cartoons, Little Lulu's father and Buzzy the Crow, who was a foil for Katnip the Cat in a number of cartoons. Later, he would lend his voice to animated television films such as Race for Your Life, Charlie Brown and series like G. I. Joe and Popeye the Sailor (as Bluto's replacement, Brutus). His voice was also employed for commercials, as an announcer, and in various other capacities.
Beck died of a stroke on July 28, 2004 at age 92. He is buried in Brooklyn's Mount Hope Cemetery.
External links
Ad blocker interference detected!
Wikia is a free-to-use site that makes money from advertising. We have a modified experience for viewers using ad blockers

Wikia is not accessible if you've made further modifications. Remove the custom ad blocker rule(s) and the page will load as expected.