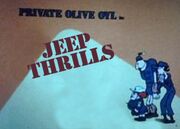 "
Jeep Thrills
" is an episode from
The All-New Popeye Hour
's "
Private Olive Oyl
" segment for
Hanna-Barbera Productions
in association with
King Features Syndicate
. It first aired on November 21, 1981. The producer was Art Scott and it was directed by George Gordon, Carl Urbano and Rudy Zamora. Sergeant
Bertha Blast
was voiced by
Jo Anne Worley
, Private
Olive Oyl
was voiced by
Marilyn Schreffler
,
Eugene the Jeep
was voiced by Don Messick and
Colonel Crumb
was voiced by Hal Smith.
Plot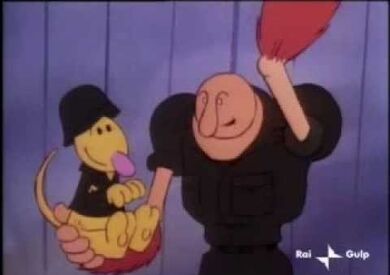 Privates Olive and
Alice
are ready for inspection. Sergeant Blast gives them a hard time with her white-glove inspection, and orders the two to clean the place up. While they are cleaning the barracks, Eugene the Jeep shows up. Of course, the
Jeep
drives the Sergeant crazy.
She also drives herself crazy trying to catch him and bring him to the Army pound. When the Sergeant tells Colonel Crumb about seeing a little invisible dog, he thinks she is going nuts.
Episode details
This segment was from episode 64 in the series, aired in season 4, episode 11 of The All-New Popeye Hour. Below is a list of the other segments for this episode.
External links