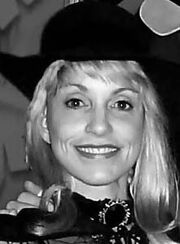 Lani Minella
(Born October 25, 1959) is a voice actress who has performed in over 500 computer and
video games
as well as several TV and anime series. She is best known for voicing Nancy Drew, Millie Strathorn, Loulou the Parrot and Freddie in the
Nancy Drew
computer games, Ivy Valentine in the
Soul Calibur
video game franchise, and Rouge the Bat in the
Sonic the Hedgehog
games from 2001 to 2005. Lani's unique 4-octave range and ability to mimic anything she hears, has given her mastery of instant voice control. Lani Minella's various voices can be heard on over 500 titles of computer games, cartoons and anime, national and international radio and TV commercials, industrials, phone systems, talking books, websites, car navigational systems, toys, and much more, including voices at Legoland,
Disney
rides, arcade and casino machines, as well as the sound-alike for hundreds of celebs and famous cartoon characters. She has provided the voice for
Olive Oyl
and 
Betty Boop
 in
Popeye
EVO Betty Boop Hollywood (slots) via AudioGodz.
Role as Olive Oyl
External Links
Ad blocker interference detected!
Wikia is a free-to-use site that makes money from advertising. We have a modified experience for viewers using ad blockers

Wikia is not accessible if you've made further modifications. Remove the custom ad blocker rule(s) and the page will load as expected.