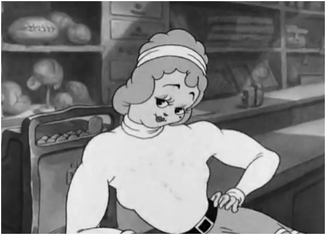 The Mae West caricature appears in Fleischer Studios's 1936 cartoon Never Kick a Woman. Popeye and Olive Oyl pass a sporting-goods shop where an athletic woman is demonstrating boxing equipment; when the robust lady comes on to Popeye, Olive gets jealous and they end up fighting over The Sailorman, with Olive losing until she eats Popeye's spinach.
Voiced by
The Mae West-like character's voice was provided by Bonnie Poe.
Trivia
Some people think that the real Mae West provided the voice for the character, which is untrue. Fleischer Studios used an impersonator, as Mae West would have asked for too much money if she had done the role.
The cartoon was recorded in a live mix like a radio show. There are times when there is a slight overlap of the two female characters, indicating that Olive's voice actress Mae Questel did not do the voice, as she could not have switched characters that quickly.
Gallery
​