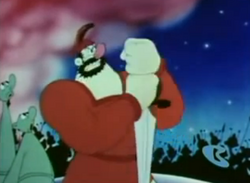 The Martian Emperor is an adversarial character in the Famous Studios cartoon Rocket To Mars. A dictatorial ruler, he commands his followers to conquer Earth.
Appearance
While the rest of the Martians in this cartoon are mindless duck-like creatures on the order of Dr. Seuss's "Sneetches," the Emperor is a muscular, bearded, humanoid menace greatly resembling Bluto--with the exception of his green skin complexion (like the rest of the martians) and a bulbous red nose.
Gallery
Ad blocker interference detected!
Wikia is a free-to-use site that makes money from advertising. We have a modified experience for viewers using ad blockers

Wikia is not accessible if you've made further modifications. Remove the custom ad blocker rule(s) and the page will load as expected.