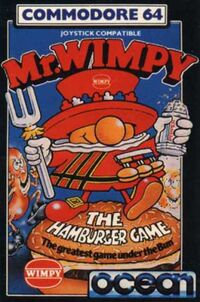 Mr. Wimpy: The Hamburger Game
is a
video game
released for the Commodore 64, Oric and ZX Spectrum home computers in 1984. A licensed game, it stars
Mr. Wimpy
, the mascot of
hamburger
chain
Wimpy Bar
, which in turn derives its name and inspiration from
J. Wellington Wimpy
.
The gameplay mechanics for the majority of the game and the hamburger motif are taken directly from Data East's arcade game BurgerTime.
External links
Ad blocker interference detected!
Wikia is a free-to-use site that makes money from advertising. We have a modified experience for viewers using ad blockers

Wikia is not accessible if you've made further modifications. Remove the custom ad blocker rule(s) and the page will load as expected.