"
Neanderthal Nuisance
" is an episode from
The All-New Popeye Hour
's "
Prehistoric Popeye
" segment for
Hanna-Barbera Productions
in association with
King Features Syndicate
. It first aired on October 10, 1981. The producer was Art Scott and it was directed by George Gordon, Carl Urbano and Rudy Zamora. Caveman
Popeye
was voiced by
Jack Mercer
, Cavewoman
Olive
was voiced by
Marilyn Schreffler
and Caveman
Bluto
was voiced by
Allan Melvin
.
Plot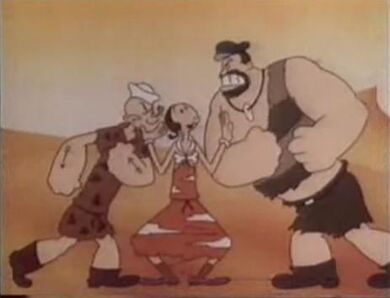 Caveman Popeye visits Cavewoman Olive for a day of sunbathing in her backyard. Olive's pesky new neighbor, Caveman Bluto, will not leave them alone. Popeye tries several times to get rid of him.
After many failed attempts, Popeye gives up, deciding that the best thing to do with Bluto is to be a good neighbor.
External links