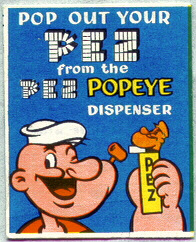 Pez
(or
PEZ
) is a brand of candy first introduced in Austria in 1927. The candy is shaped like small bricks and fruit-flavored, yet not colored. Adding to its popularity is the iconic Pez dispenser: at first reminiscent of a slightly oversized lighter, it was later decided to shape the lid like a cartoon character's head. Hundreds of characters have since been licensed to be turned into Pez dispensers,
Popeye
being included as early as 1950 and eventually receiving at least four versions with further variations thereof. Some of the heads have him wearing his original captain's cap, while others use the
Navy
sailor
's hat introduced by the animated cartoons. Two versions of
Olive Oyl
also exist and one of
Brutus
. The three characters were released together in 1966, owing to the
1960s television series
' popularity.
Similar products
The brand Klik also sells candy with Pez-like dispensers and equally licenses popular characters to be used on them. A Klik set of Popeye, Olive and Brutus was introduced in 2004, while Betty Boop was released separately in 2006.
Gallery
External links