This article is about the characters. For the animated short, see Pip-eye, Pup-eye, Poop-eye an' Peep-eye.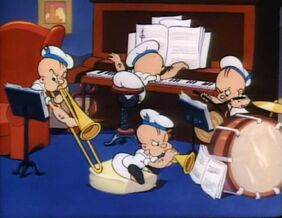 Pipeye, Peepeye, Poopeye and Pupeye
are all nephews of
Popeye
and apparently quadruplets. They first appeared in 1940 in
Fleischer Studios
's
Wimmin is a Myskery
('Poopeye" is replaced by "Pepeye" in this episode), although in a dream sequence as Popeye's children. Their first appearance proper as his nephews occurs in 1942's
Pip-eye, Pup-eye, Poop-eye an' Peep-eye
. Their existence would indicate that
Popeye's mother
and/or
his father
had at least
one child other than Popeye
.
Some cartoons (such as Big Bad Sindbad and Patriotic Popeye) only feature two or three nephews, with no explanation as to the others' absence.
Popeye's nephews also joined in in The All-New Popeye Hour, where they would often appear in short, "moral" segments that were shown between longer ones. This allowed for the rare sight of them together with Swee'Pea. In these segments they would mostly appear along with Mr. No-No.
External links