"
Polly Wants Some Spinach
" is an episode from
The All-New Popeye Hour
's "
The Adventures of Popeye
" in association with
King Features Syndicate
. It first aired on October 1, 1979. The producer was Alex Lovy and it was directed by Ray Patterson and Carl Urbano. The associate producer was Neil Balnaves and Creative Producer was Iwao Takamoto.
Popeye
was voiced by
Jack Mercer
,
Olive
was voiced by
Marilyn Schreffler
and
Bluto
was voiced by
Allan Melvin
.
Plot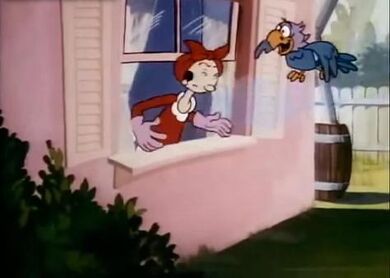 It is spring cleaning time at Olive's house. Her house is so dirty that she stirs up a huge dust cloud with the broom. When she opens a window to clear the air, her bird Polly flies out.
Her cries for help bring Popeye running to the rescue. But they also bring Bluto to 'help' as well. The poor defenseless little Polly leads the two of them on a classic chase all over the yard and into town. But even with the use of ladders, nets and even pogo sticks, Polly slips away every time.
The only thing useful is Popeye's spinach, which he eats from a billboard. He makes a plane out of a stack of lumber and chases Polly to a farm. There he uses a windmill to blow off all her feathers and catches her when she falls.
Popeye leaves Bluto netted and feathered in the chicken coop as he returns Polly to Olive. When he arrives back at Olive's house, Polly's feathers have already grown back. Olive meets Popeye at the front door and tells him that Polly came home on her own just after he left. Popeye had been chasing the wrong bird the whole day.
Episode details
This segment was aired in season 2, episode 4 of The All-New Popeye Hour. Below is a list of the other segments for this episode.
External links
Ad blocker interference detected!
Wikia is a free-to-use site that makes money from advertising. We have a modified experience for viewers using ad blockers

Wikia is not accessible if you've made further modifications. Remove the custom ad blocker rule(s) and the page will load as expected.