Popeye's Premiere is Popeye's 161st cartoon, released by Famous Studios in 1949, with most of its footage recycled from the earlier Fleischer Studios short Aladdin and His Wonderful Lamp (1939) - much as Big Bad Sindbad does with Popeye the Sailor Meets Sindbad the Sailor. Like the Fleischer cartoon, it presents the Aladdin story as a film created by the characters. Contrary to what the ending to Wonderful Lamp would suggest, in this cartoon the picture seems to have been succesfully filmed and released by Popeye and company.
Plot
The premiere of "
Aladdin's Lamp
", starring Popeye, is taking place at a movie theater. Popeye sits nervously expecting the film to start, and when it does he cheers noisily until he notices the angry looks from the rest of the audience. There follows much of the action from
Aladdin and His Wonderful Lamp
, where Aladdin/Popeye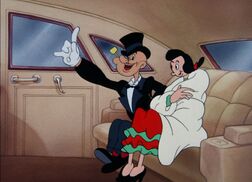 falls for the Princess/Olive, is tricked by the Vizier into entering the secret cave in search of the magic lamp, gains the help of the Genie and is again faced by the Vizier. In his darkest hour, however, the movie Aladdin is given some
spinach
by the audience Popeye and is able to rescue the princess and defeat the magically-empowered villain, regaining the Genie's allegiance. After the film's end, Popeye and Olive withdraw to a long limousine, which is revealed to be driven by none other than the Genie, who takes the vehicle to the skies.
External links
Ad blocker interference detected!
Wikia is a free-to-use site that makes money from advertising. We have a modified experience for viewers using ad blockers

Wikia is not accessible if you've made further modifications. Remove the custom ad blocker rule(s) and the page will load as expected.