Popeye's mother is the wife of Poopdeck Pappy, the daughter-in-law of Granny and the mother of Popeye.
Animation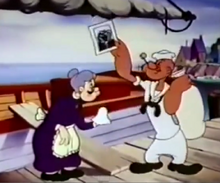 Popeye grew up without his father, as mentioned in the cartoon Goonland (1938). Popeye's mother made her first animated appearance in Goonland's 1952 remake Popeye's Pappy, where she tells her son about Pappy's long-ago departure, upon which Popeye sets sail in search of his father. She can also be seen in a flashback, feeding Popeye, in another Famous Studios cartoon, entitled Lunch with a Punch. Her voice was provided by Jack Mercer.
Later comics
In the first Popeye Special from Ocean Comics, Popeye's mother Roxy is shown as being married to Poopdeck Pappy, who leaves her for being an irresponsible mother and wife. However, these newer comic specials present their own version and on some occasions, including this one, contradict the originals.
Personality and background
When Popeye was a baby, his mother would feed him spinach, in order to make him healthy and strong when he grew up. Her facial features and voice are very similar to that of her son's. Popeye's mother speaks with grammatical mistakes in a way similar to her son and husband.
She possibly had at least one child other than Popeye, who was the mother or father of Pipeye, Peepeye, Poopeye and Pupeye. However, since Poopdeck Pappy claimed that Popeye was his only child in Goonland, it is likely that they did not have any other children and that Popeye's nephews are more distantly related to him.
Quotes
"Here ya are son! Eat your spinach and you'll be healthy and strong."
"And, son, when you was a young infant, your pappy went to buy you some spinach. He ain't never returned."
See also
External links
Ad blocker interference detected!
Wikia is a free-to-use site that makes money from advertising. We have a modified experience for viewers using ad blockers

Wikia is not accessible if you've made further modifications. Remove the custom ad blocker rule(s) and the page will load as expected.