This article is about television episodes. For the theatrical short, see Adventures of Popeye.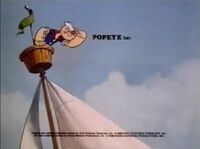 The Adventures of Popeye
, or simply
Popeye
, are the "classic"
Popeye
comedy and adventure cartoon shorts from
The All-New Popeye Hour
, as opposed to its variations such
a Stone Age setting
or
an Army comedy
.
Episodes
| No | Title | Airdate |
| --- | --- | --- |
| 1 | "Popeye the Carpenter" | September 9, 1978 |
| 2 | "The Ski's the Limit" | September 16, 1978 |
| 3 | "Popeye and the Beanstalk" | September 16, 1978 |
| 4 | "The Big Wheel" | September 16, 1978 |
| 5 | "Popeye the Sleepwalker" | September 23, 1978 |
| 6 | "A Whale of a Tale" | September 30, 1978 |
| 7 | "Olive's Shining Hour" | September 30, 1978 |
| 8 | "A Bad Knight For Popeye" | September 30, 1978 |
| 9 | "Popeye Goes Sailing" | October 7, 1978 |
| 10 | "A Seal with Appeal" | October 14, 1978 |
| 11 | "A Day at Muscle Beach" | October 14, 1978 |
| 12 | "The Crunch for Lunch Bunch" | October 14, 1978 |
| 13 | "Wilder Than Usual Blue Yonder" | October 21, 1978 |
| 14 | "Popeye Out West" | October 28, 1978 |
| 15 | "Popeye the Plumber" | October 28, 1978 |
| 16 | "Spinach Fever" | October 28, 1978 |
| 17 | "Heir-Brained Popeye" | November 4, 1978 |
| 18 | "Popeye and Bigfoot" | November 11, 1978 |
| 19 | "Popeye's Engine Company" | November 11, 1978 |
| 20 | "Getting Popeye's Goat" | November 11, 1978 |
| 21 | "Close Encounters of the Third Spinach" | November 18, 1978 |
| 22 | "Popeye's Finest Hour" | November 25, 1978 |
| 23 | "Popeye and the Pest" | November 25, 1978 |
| 24 | "Popeye Meets the Blutostein Monster" | November 25, 1978 |
| 25 | "Ship Ahoy" | December 2, 1978 |
| 26 | "Here Stew You" | December 9, 1978 |
| 27 | "Popeye and the Pirates" | December 9, 1978 |
| 28 | "Popeye Goes Hollywood" | December 9, 1978 |
| 29 | "Popeye's Roots" | December 16, 1978 |
| 30 | "Popeye Snags the Seahag" | December 23, 1978 |
| 31 | "The Three Ring Ding-a-ling" | December 23, 1978 |
| 32 | "A Day at the Rodeo" | December 23, 1978 |
| 33 | "The Decathlon Dilemna" | January 6, 1979 |
| 34 | "Chips off the Old Ice Block" | January 13, 1979 |
| 35 | "Popeye of the Klondike" | January 13, 1979 |
| 36 | "Popeye Goes Sightseeing" | January 13, 1979 |
| 37 | "Shark Treatment" | January 20, 1979 |
| 38 | "Bluto's Bike Bullies" | January 27, 1979 |
| 39 | "Mother Goose On The Loose" | January 27, 1979 |
| 40 | "Steeple Chase at Ups and Downs" | January 27, 1979 |
| 41 | "A Camping We Will Go" | February 3, 1979 |
| 42 | "Take Me Out to the Brawl Game" | February 10, 1979 |
| 43 | "Popeye Versus Machine" | February 17, 1979 |
| 44 | "The Spinach Bowl" | February 24, 1979 |
| 45 | "Ballet-Hooey" | March 3, 1979 |
| 46 | "Yukon County Mountie" | March 10, 1979 |
| 47 | "Queen of the Load" | September 10, 1979 |
| 48 | "Love on the Rocks" | September 17, 1979 |
| 49 | "Popeye the Lone Legionnaire" | September 17, 1979 |
| 50 | "Roller Rink-A-Dink" | September 17, 1979 |
| 51 | "Old McPopeye Had a Farm" | September 24, 1979 |
| 52 | "Polly Wants Some Spinach" | October 1, 1979 |
| 53 | "The Loneliness of the Long Distance Popeye" | October 1, 1979 |
| 54 | "Popeye's High School Daze" | October 1, 1979 |
| 55 | "On Mule-itary Detail" | October 8, 1979 |
| 56 | "Boo-Who" | October 15, 1979 |
| 57 | "Building Blockheads" | October 15, 1979 |
| 58 | "Olive's Bugged House Blues" | October 15, 1979 |
| 59 | "The Game" | October 22, 1979 |
| 60 | "Free Hauling Brawl" | October 29, 1979 |
| 61 | "Pedal Powered Popeye" | October 29, 1979 |
| 62 | "Wotsa Matterhorn?" | October 29, 1979 |
| 63 | "Popeye's Aqua Circus" | November 5, 1979 |
| 64 | "Popeye's Poodle Problem" | November 12, 1979 |
| 65 | "Take It or Lump It" | November 12, 1979 |
| 66 | "Westward Ho! Ho!" | November 12, 1979 |
| 67 | "Bad Day at the Bakery" | November 19, 1979 |
| 68 | "Bully Dozer" | November 26, 1979 |
| 69 | "Popeye the Painter" | November 26, 1979 |
| 70 | "Popeye the Robot" | November 26, 1979 |
| 71 | "Swee'Pea Plagues a Parade" | December 3, 1979 |
| 72 | "Paddle Wheel Popeye" | December 10, 1979 |
| 73 | "Merry Madness at the Mardi Gras" | December 17, 1979 |
| 74 | "A Goon Gone Gooney" | December 24, 1979 |
| 75 | "Bad Company" | December 24, 1979 |
| 76 | "Popeye of Sherwood Forest" | December 24, 1979 |
| 77 | "Top Kick in Boot Camp" | December 24, 1979 |
| 78 | "Peask and Quiet" | December 31, 1979 |
| 79 | "Abject Flying Object" | January 7, 1980 |
| 80 | "Spa-ing Partners" | January 7, 1980 |
| 81 | "Ships That Pass in the Fright" | January 14, 1980 |
| 82 | "Olive Does Dallas" | January 21, 1980 |
| 83 | "Popeye's Perilous Pursuit of a Pearl" | January 21, 1980 |
| 84 | "Popeye's Self Defense" | January 21, 1980 |
| 85 | "Pappy Fails in Love" | January 28, 1980 |
| 86 | "Alpine for You" | February 4, 1980 |
| 87 | "Popeye of the Jungle" | February 4, 1980 |
| 88 | "Tour Each His Own" | February 4, 1980 |
| 89 | "The Umpire Strikes Back" | February 11, 1980 |
| 90 | "Tough Sledding" | February 18, 1980 |
| 91 | "Unidentified Fighting Object" | February 18, 1980 |
| 92 | "W.O.I.L" | February 18, 1980 |
| 93 | "I Wouldn't Take That Mare to the Fair on a Dare" | February 25, 1980 |
| 94 | "The Great Speckled Whale" | March 3, 1980 |
| 95 | "Popierre the Musketeer" | September 8, 1980 |
| 96 | "Olive's Devastating Decorators" | September 26, 1981 |
| 97 | "Cheap Skate Date" | October 3, 1981 |
| 98 | "The Incredible Shrinking Popeye" | October 10, 1981 |
| 99 | "Winner Window Washer" | October 24, 1981 |
| 100 | "Hogwash at the Car Wash" | October 31, 1981 |
| 101 | "The Midnight Ride of Popeye Revere" | November 7, 1981 |
| 102 | "Popeye Stumps Bluto" | November 14, 1981 |