This article is about the comic book series. For the character, see Popeye. For other meanings, see Popeye (disambiguation).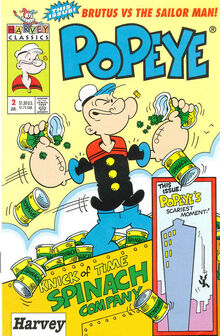 Harvey Comics
published a
Popeye
comic book series under their
Harvey Classics
label. The first ongoing Popeye series to start at #1 after
the classic comic-book
from 1948 ended its run in 1984, Harvey's publication lasted for seven issues between 1993 and 1994.
In addition to their main series, Harvey also released a single Popeye Summer Special in 1993.
Ad blocker interference detected!
Wikia is a free-to-use site that makes money from advertising. We have a modified experience for viewers using ad blockers

Wikia is not accessible if you've made further modifications. Remove the custom ad blocker rule(s) and the page will load as expected.