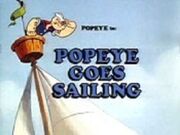 "
Popeye Goes Sailing
" is an episode from
The All-New Popeye Hour
's "
Popeye
" segment for
Hanna-Barbera Productions
in association with
King Features Syndicate
. It first aired on October 7, 1978. The producer was Art Scott and it was directed by George Gordon, Carl Urbano and Rudy Zamora.
Popeye
was voiced by
Jack Mercer
,
Olive Oyl
was voiced by
Marilyn Schreffler
and
Bluto
was voiced by
Allan Melvin
.
Plot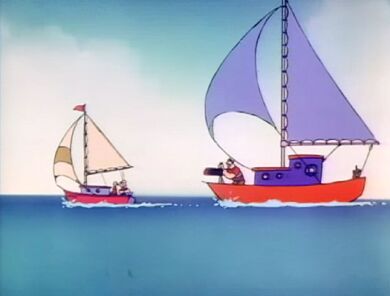 Popeye and Olive are going on an outing on Popeye's
sailboat
. Bluto of course wants Olive to join him on his own sailboat. To get Popeye out of the way, Bluto totally destroys Popeye's sailboat. As the boat sinks, Popeye goes down with the ship.
Bluto kidnaps Olive and takes her on board his own sailboat. He attempts to hold her against her will but she gets away. Olive then leads Bluto on a wild chase all around the boat. Olive screams to Popeye for help and hides from Bluto.
While Popeye is underwater he is swallowed by a whale. When he hears Olive's cries for help, he eats his spinach. He frees himself from inside the whale, swims out of the water and rescues Olive from Bluto.
Episode details
This segment was from episode 5 in the series, aired in season 1, episode 5 of The All-New Popeye Hour. Below is a list of the other segments for this episode.
External links