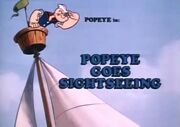 "
Popeye Goes Sightseeing
" is an episode from
The All-New Popeye Hour
's "
Popeye
" segment for
Hanna-Barbera Productions
in association with
King Features Syndicate
. It first aired on January 13, 1979. The producer was Alex Lovy and the associate producer was Dough Patterson. It was directed by Ray Patterson and Carl Urbano. The story editor was Larz Bourne and the recording directors were Art Scott and Alex Lovy.
Plot
Popeye
is sightseeing down the streets of New York City with
Olive
and
Swee'Pea
in his stroller. Olive wants to go shopping and, while Popeye is helping her in the dressing room, Swee'Pea wanders out of the store with a dog. Popeye does not want Olive to know he lost Swee'Pea so he leaves dummies in the store as he goes to find him.
Popeye ends up chasing Swee'Pea through the busy subway, on top of The World Trade Center, on helicopters, on boats and on the Statue of Liberty. Popeye finally resorts to eating his spinach to catch him. He manages to get back to the dress shop as Olive is finishing her shopping spree.
Episode details
This segment was aired in season 1, episode 18 of The All-New Popeye Hour. Below is a list of the other segments for this episode.
External links