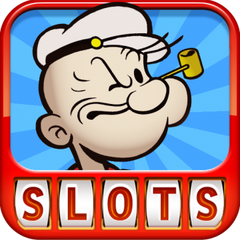 Popeye Slots
is a slot machine-type
video game
available free of charge for the iPhone, iPod Touch and iPad, released in 2012 by developer Ludia.
Game description
Publisher's summary: "*I'm Strong to the finich 'cause I eats me spinach, Play Popeye the Sailor Man…Slots!**
Try to beat the odds and unlock a slew of slots based on the famous Popeye cartoon character and his friends & nemesis, Olive Oyl , Brutus and Wimpy. Travel from island to island and look for treasures and collecting pieces to build unique ships! The Popeye Slots combines classic hand drawn animation which gives it a stand-out style!
The Popeye Slots feature:
• 10 slot machines highlighting different fun themes like the circus, medieval times, a haunted mansion and the wild west!
• Each slot machine features its unique skill-testing bonus game, where Popeye dresses for the occasion!
• The possibility to connect with your friends and send each other gifts!
• Amazing visual effects, animations & sound true to the cartoon characters.
See Popeye stare down charging bulls, sink World War II battleships, get shot out of a cannon, fight fire-breathing dragons and so much more! Play now and start spinning!"
Popeye Classic Slots
Another iteration, known as Popeye Slots: Free Slots Game APK for iPhone (but displaying the title "Popeye Classic Slots" onscreen) was released in 2016, developed by Rocket Speed.
Features include:
• "6 brand new Popeye machines.
• Daily Challenges for more free credits!
• General performance improvements and bug fixes.
• All Silver City Slots players progress, credits, and game is saved and will work in this new Popeye app!"
Gallery
See also
External links
Ad blocker interference detected!
Wikia is a free-to-use site that makes money from advertising. We have a modified experience for viewers using ad blockers

Wikia is not accessible if you've made further modifications. Remove the custom ad blocker rule(s) and the page will load as expected.