This page lists some of the known Popeye-based board games that have been released through the decades:
Popeye Shipwreck Game (1933)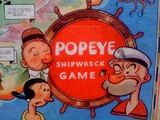 Popeye Shipwreck Game
(Einson-Freeman, 1933) was a game in which Popeye,
Olive Oyl
and
Wimpy
were shipwrecked on an island full of hazards. Players rolled two dice in order to move, facing the board's challenges and trying to make it to the finish to escape the island.
Popeye in Plunderland (1934)
Popeye in Plunderland
(Einson-Freeman, 1934), likely inspired by the
Thimble Theatre
storyline
"
Plunder Island
", was marketed as "a puzzle for one- a game for two" and as such it was possible to play solo, or between two players.
Olive Oyl I'll Catch my Popeye (1956)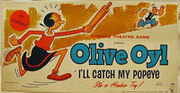 Olive Oyl I'll Catch my Popeye
(Hasbro, 1956) was a spin-and-move two-player chase game featuring Olive Oyl and Popeye, with the former trying to catch the latter over an obstacles-filled course, aided by a rolling pin.
The Adventures of Popeye (1957)
The Adventures of Popeye
, or,
Popeye the Sailorman
(Transogram, 1957) was a spin-and-move game for two to four players where each was Popeye and had to complete the four adventures on the board then proceed to the finish in order to win. "Mad
Professor Wotasnozzle
" appeared in this game as one of the enemies that had to be faced.
Popeye's Treasure Map Game (1977)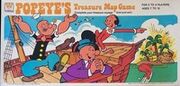 Popeye's Treasure Map Game
(Whitman, 1977) consisted of a race to find
pirate
treasure. It boasted an island-shaped spinner and its board's four sections were adorned with island maps. It was possible to play as different characters such as Wimpy or Olive.
Popeye (1981)
Popeye
(Milton Bradley, 1981) was a game based directly upon the
1980 live-action film
, where each player was Popeye and would eventually have to face
Bluto
. Cardboard cutouts gave this game a 3-D element.
Popeye (1983)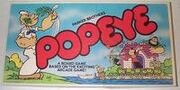 Popeye
(Parker Brothers, 1983) was a board game itself based on
Nintendo
's
arcade game of 1982
, meant to replicate the experience of playing said video game at home, or at least its first level. Interestingly, there were
Whiffle Birds
adorning the board.
See also
Ad blocker interference detected!
Wikia is a free-to-use site that makes money from advertising. We have a modified experience for viewers using ad blockers

Wikia is not accessible if you've made further modifications. Remove the custom ad blocker rule(s) and the page will load as expected.