"
Popeye of the Klondike
" is an episode from
The All-New Popeye Hour
's "
Popeye
" segment for
Hanna-Barbera Productions
in association with
King Features Syndicate
. It first aired on January 13, 1979. The producer was Art Scott and it was directed by George Gordon, Carl Urbano and Rudy Zamora.
Popeye
was voiced by
Jack Mercer
,
Olive Oyl
was voiced by
Marilyn Schreffler
and
Bluto
was voiced by
Allan Melvin
.
Plot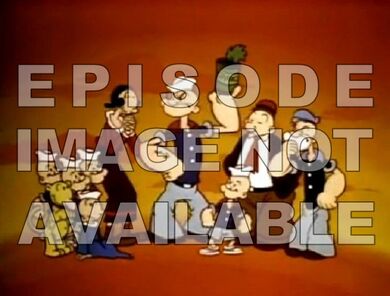 Olive tells
Popeye's nephews
the story of the time Popeye and Bluto went to Alaska during the Gold Rush. Bluto was the winner of the race, however, his prize turned out to be fool's gold.
Episode details
This segment was aired in season 1, episode 18 of The All-New Popeye Hour. Below is a list of the other segments for this episode.
External links