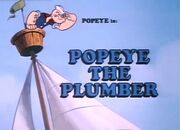 "
Popeye The Plumber
" is an episode from
The All New Popeye Hour
's "
Popeye
" segment for
Hanna-Barbera Productions
in association with
King Features Syndicate
. It first aired on October 28, 1978. The producer was Alex Lovy and it was directed by Ray Patterson and Carl Urbano. The editors were Peter Jennings, Robert Ciauga and Larry C. Cowan. The music editors were Hoyt Curtin and Paul DeKorte.
Popeye
was voiced by
Jack Mercer
, while
Olive
and
Swee'Pea
were voiced by
Marilyn Schreffler
.
Plot
Olive has a leak in her kitchen faucet, so she naturally calls Popeye the plumber and his assistant Swee'Pea to come and fix it. Popeye tries to fix the leak, but Swee'Pea keeps turning the water meter on and off to compound the situation.
Before he can fix the faucet, Popeye makes a complete shambles out of Olive's house. Even with the help of his trusty spinach, he manages to flood her whole house. When the pipes finally explode, it sends her house flying in the air on a giant water spout.
Episode details
This segment was aired in season 1, episode 8 of The All-New Popeye Hour. Below is a list of the other segments for this episode.
| Segment | Title | Seg # |
| --- | --- | --- |
| Popeye | "Popeye Out West" | 8A |
| Health and Safety Tips | Don't Play With Matches | 8B |
| The Adventures of Popeye | "Popeye the Plumber" | 8C |
| Dinky Dog | "Attic Antics" | 8D |
| Health and Safety Tips | Crossing the Street | 8E |
| The Adventures of Popeye | "Spinach Fever" | 8F |
| Health and Safety Tips | Don't Accept Rides From Strangers | 8G |
External links
Ad blocker interference detected!
Wikia is a free-to-use site that makes money from advertising. We have a modified experience for viewers using ad blockers

Wikia is not accessible if you've made further modifications. Remove the custom ad blocker rule(s) and the page will load as expected.