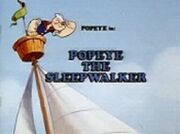 "
Popeye the Sleepwalker
" is an episode from
The All-New Popeye Hour
's "
Popeye
" segment for
Hanna-Barbera Productions
in association with
King Features Syndicate
. It first aired on September 23, 1978. The producer was Art Scott and it was directed by George Gordon, Carl Urbano and Rudy Zamora.
Popeye
was voiced by
Jack Mercer
and
Olive Oyl
was voiced by
Marilyn Schreffler
.
Plot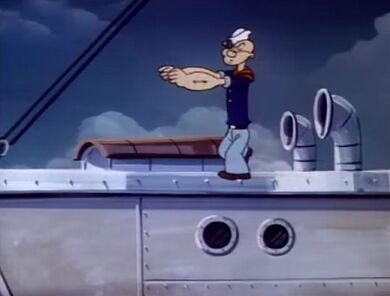 Popeye returns from a record-setting trans-Atlantic sailing trip. He has spent seven sleepless days and nights on the high seas. He is very tired and needs sleep. He wants to call Olive Oyl but he falls asleep. He starts to sleepwalk onto the roof of the boat. Olive Oyl follows along, trying to prevent him from being hurt. She ends up getting in more trouble than Popeye does.
Olive becomes a victim to some crooks that put her in a trash can. She has to be rescued by the police. Olive goes to find Popeye to tell him about her adventures. The now-awake sailor offers to take her out. However, before they go anywhere, Olive falls asleep from all her excitement.
Episode details
This segment was from episode 3 in the series, aired in season 1, episode 3 of The All-New Popeye Hour. Below is a list of the other segments for this episode.
External links