Ad blocker interference detected!
Wikia is a free-to-use site that makes money from advertising. We have a modified experience for viewers using ad blockers

Wikia is not accessible if you've made further modifications. Remove the custom ad blocker rule(s) and the page will load as expected.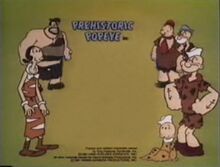 Prehistoric Popeye is a segment in The All-New Popeye Hour where Popeye, along with his friends and their basic personalities, is transplanted without explanation into a prehistoric setting. While the characters wear caveman furs and the lansdcape is one of jungles and dinosaurs, the conflict between Popeye, Bluto and Olive Oyl is not too far removed from its modern-day incarnation.
Episodes
| No | Title | Airdate |
| --- | --- | --- |
| 1 | "Reptile Ranch" | September 12, 1981 |
| 2 | "So Who's Watching the Bird Watchers?" | September 12, 1981 |
| 3 | "Chilly Con Caveman" | September 19, 1981 |
| 4 | "Come Back, Little Stegosaurus" | September 26, 1981 |
| 5 | "Neanderthal Nuisance" | October 10, 1981 |
| 6 | "The First Resort" | October 17, 1981 |
| 7 | "Vegetable Stew" | October 24, 1981 |
| 8 | "Bronto Beach" | November 7, 1981 |
| 9 | "Up a Lizard River" | November 21, 1981 |