"
Reptile Ranch
" is an episode from
The All-New Popeye Hour
's "
Prehistoric Popeye
" segment for
Hanna-Barbera Productions
in association with
King Features Syndicate
. It first aired on September 12, 1981. The producer was Art Scott and it was directed by George Gordon, Carl Urbano and Rudy Zamora. Caveman
Popeye
was voiced by
Jack Mercer
, Cavewoman
Olive Oyl
was voiced by
Marilyn Schreffler
, Caveman
Wimpy
was voiced by
Daws Butler
and Caveman
Bluto
was voiced by
Allan Melvin
.
Plot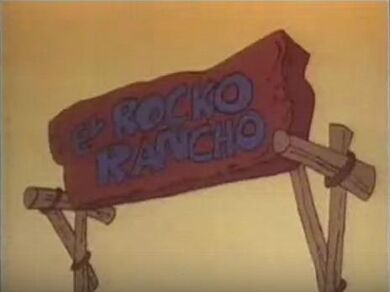 Cavewoman Olive has opened a new prehistoric ranch somewhere way out west. She chisels out a 'HELP WANTED' sign to attract a new ranch hand. Both Cavemen Popeye and Bluto want the job. The two of them have a competition to see who gets the job.
They compete to show their skill at riding and lassoing dinosaurs. Of course, Bluto cheats right from the start. All of Bluto's tricks fail and just make Popeye look even better, or put Olive in danger. In the end Popeye eats his spinach to save her.
External links
Ad blocker interference detected!
Wikia is a free-to-use site that makes money from advertising. We have a modified experience for viewers using ad blockers

Wikia is not accessible if you've made further modifications. Remove the custom ad blocker rule(s) and the page will load as expected.