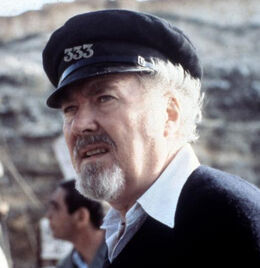 Robert Bernard Altman
(1925-2006) was a renowned American film director and writer, known for his various films:
MASH
,
Popeye
,
Vincent & Theo
,
The Player
,
Dr. T & the Women
and
Gosford Park
, among others.
Altman was already a veteran director when his feature film adaptation of Popeye was released in 1980. He sought to bring the characters closer to the spirit of E. C. Segar's original Thimble Theatre comic strip, and so many of its more obscure characters appear, although more mainstream elements such as the sailor's reliance on spinach for a strength boost were also included. Popeye was reasonably successful at the box office, however, its critical reception was mixed. Altman mantained a somewhat lower profile following this film, although he enjoyed a career resurgence beginning in the 1990s.
Filmography
The Delinquents (1957)
The James Dean Story (1957)
Countdown (1968)
That Cold Day In The Park (1969)
MASH (1970)
Brewster McCloud (1970)
McCabe & Mrs. Miller (1971)
Images (1972)
The Long Goodbye (1973)
Thieves Like Us (1974)
California Spirit (1974)
Nashville (1975)
Bufallo Bill and the Indians, or, Sitting Bull's History Lesson (1976)
3 Women (1977)
A Wedding (1978)
Quintet (1979)
A Perfect Couple (1979)
HealtH (1980)
Popeye (1980)
Come Back to the Five and Dime, Jimmy Dean, Jimmy Dean (1982)
Streamers (1983)
Secret Honor (1984)
O.C. and Stiggs (1984)
Fool for Love (1985)
Beyond Therapy (1987)
Aria (1987)
Vincent & Theo (1990)
The Player (1992)
Short Cuts (1993)
Pret-a-Porter (1994)
Kansas City (1996)
The Gingerbread Man (1998)
Cookie's Fortune (1999)
Dr. T and the Women (2000)
Gosford Park (2001)
The Company (2003)
A Prairie Home Companion (2006)
External links
Ad blocker interference detected!
Wikia is a free-to-use site that makes money from advertising. We have a modified experience for viewers using ad blockers

Wikia is not accessible if you've made further modifications. Remove the custom ad blocker rule(s) and the page will load as expected.