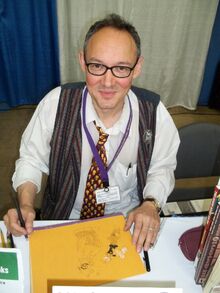 Roger Langridge
(born 14 February 1967) is a New Zealand-born comics writer/artist/letterer, currently living in Britain.
Langridge originally came to public prominence most notably with the Judge Dredd Megazine series The Straitjacket Fits, a surreal, hallucinatory, convention-bending strip set in an insane asylum with a cast of characters who realized they were in a comic strip and burst from the edge of the frame.
His cartoon style proved perfect for the series and he continued to work for the Megazine, in addition to a series of comedy books dedicated to his Buster Keaton-inspired character Fred the Clown, which he wrote and drew as a webcomic before self-publishing the material as small press titles. His work on Fred the Clown was nominated for two Eisner Awards, a Harvey Award, a Reuben Award and an Ignatz Award.[1] Langridge also does illustration work. He has also provided artwork for Shaenon Garrity's Smithson webcomic.
Langridge has worked on Fin Fang Four, with Scott Gray, first for Marvel Monsters, then a series of short stories and in late 2008 as a digital comic on Marvel Digital Comics Unlimited.[2] He was the writer, and usually the artist, for Boom! Studios' The Muppet Show comics (2009-12).[3]
In 2012, he scripted for IDW a four-issue Popeye miniseries, illustrated by Bruce Ozella, so successful that even before the second issue was released it was expanded into an "ongoing" series, according to Langridge.
References
↑ Fred, Mugwhump & More: Talking to Roger Langridge, Newsarama, 2 September 2008
↑ Marvel Digital: Roger Langridge Talks Fin Fang Four, Newsarama, 21 October 2008
↑ Talking Comics with Tim: Roger Langridge, Comic Book Resources, 13 July 2009
External links
Ad blocker interference detected!
Wikia is a free-to-use site that makes money from advertising. We have a modified experience for viewers using ad blockers

Wikia is not accessible if you've made further modifications. Remove the custom ad blocker rule(s) and the page will load as expected.