Seasin's Greetinks!
is the first Christmas-themed cartoon short starring
Popeye the Sailor
, and the fourth in the overall series from
Fleischer Studios
. It was released on December 17, 1933 and stars
William Costello
as Popeye,
William Pennell
as
Bluto
and
Bonnie Poe
as
Olive Oyl
.
Plot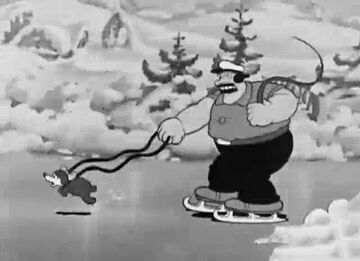 Popeye gives Olive a pair of ice skates as a Christmas present and teaches her how to skate, but Bluto interrupts the lesson to show his affection to her, but she gives him the cold shoulder. He starts to cut the ice and she floats on the broken pieces on the running river and calls to Popeye for help. As Bluto keeps punching Popeye to keep him from saving her, Olive sees a waterfall and calls for help again. Popeye punches Bluto in and out of the water in a ice cube and sends him to the ice box in the nearest town. He rushes to save Olive, but soon falls down the waterfall and climbs back up to save her. As he revives her, Bluto rolls a big snowball to destroy them, but his plan backfires and he rolls down the hill with it. Popeye uses his
spinach
, hits the snow out of Bluto to make it fall, hits him again, and stars appear out of him which decorate a Christmas tree. Popeye says "Season's Greetings to you all!" and the cartoon irises out.
External links
Ad blocker interference detected!
Wikia is a free-to-use site that makes money from advertising. We have a modified experience for viewers using ad blockers

Wikia is not accessible if you've made further modifications. Remove the custom ad blocker rule(s) and the page will load as expected.